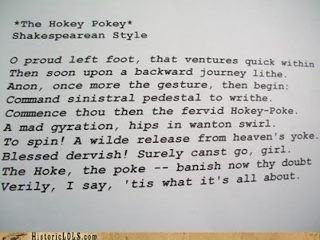 This brightened up my day and made me laugh so I thought I'd share.

We plan to see some shows, Mary Poppins and Wicked for sure and he wants to see some of the less high profile ones that might be good...suggestions?
We plan to do some of the regular tourist stuff, Met, Guggenheim, Ground Zero...but we would like some ideas that only locals or those more familiar with the city might have.
Thanks!
Tomorrow I leave for New York for a week! Wondering if any of you have "must sees" or "must dos." I am going with my 25 year old son, who is an actor/dancer/choreographer who will be doing some auditioning while we are there. We will be staying in Washington Heights, house-sitting for one of his friends.
The last Christmas decoration looks forlorn and lonely hanging outside my front door. Good-bye forever 2010, you were a great year. I will remember you...
We just started watching the series a few months ago, everyone in the family loved it (a rarity in our household). I tried it out from recs from my flist here on LJ, would have never chosen to watch a series about football (on the face of it) on my own. Great characters, fantastic writing and I liked the gritty reality of the filming style. The first few seasons were the best, the last couple were still pretty good. But this season is just....sad. I had hoped it would get better but last week's episode - so disappointing. Anyone know what happened? Did all the original writers quit or something?
some
creative ability, (just more with the artsy and less with the literary). And, this is my own creation. I tried to write "Buffy, She Saved the World a Lot" (really, I did) but it was beyond the limitations of my icing tube, couldn't squeeze it on there I need a finer line.... This is a extremely fast and easy treat to make for a Halloween party.
All you need is:
a box of brownie mix, of your choice (the thicker the better to hold up the "tombstone")
1 bag Pepperidge Farms Milano cookies (you will have leftover cookies)
Decorations of your choice (shown are candy pumpkins and gummy tarantulas)
1 tube of chocolate icing (fine line)
Prepare brownies according to directions and bake in a 8" x8" square baking dish. Allow to cool 30 - 45 minutes. While baking use icing to write "RIP" on the cookies as shown. Cut the brownies into 6 equal pieces (use a plastic fork with a sawing motion for best results). While brownies are still warm but not hot, push the cookies into each brownie "grave" with the writing side up. Decorate the grave with items of your choice.
Serves 6
You can also make an entire "graveyard" with lined up tombstones on a whole sheet of brownies (maybe double the brownie mix) and leave them all together on a cookie sheet. I am going to try that later this week, if it turns out well I'll post a photo.
I don't often post because, well, I 'm not a writer. I am doing well just to comment occasionally. But I have this treat to share with you today because I do have

In other news Chuck premieres tomorrow, yea!
I am writing this from a high rise in Vegas where I am celebrating my 27th anniversary, beautiful view of the city and a spectacular place to people watch which is one of my favorite pursuits. I got my husband tickets to LOVE the Beatles show at the Mirage we just got back and all I can say is it was fabulous, absolutely amazing, and I am not really even a Beatles fan...
Her Fearful Symmetry
by Audrey Niffenegger. I found the experience really wonderful and now I wish I had tried audio books sooner.
Listening to a book being read and reading it myself are two very different experiences for me. I have a tendency to rush and skim when reading because I am anxious to see how the plot unfolds and what is going to happen next, thus I miss out on a lot of texture, subtlety, and the real pleasure of the beauty and art in how the words are woven together by a skillful writer. Kind of like gulping down a meal too fast because you are so hungry that you fail to enjoy the taste, texture and pleasure of the experience. (Which, unfortunately, I am prone to doing as well.) Listening doesn't allow that of course, and this particular book was very well suited for savoring each word and taking the time to picture each character, setting, particular scene, etc.
(
Thoughts on Her Fearful Symmetry, mostly non spoilery but no promises
Collapse
)
(
Read more...
Collapse
)
I recently listened to an audio book novel for the first time. I am an avid reader, or used to be when I had more free time, and I had a long drive alone to tackle and though this might be the best way to make the time go by quickly and make the trip as enjoyable as possible. After much deliberation at the offerings at Barnes and Noble (as dang those things are expensive and I failed to plan ahead and get one from the library or used book store) I chose